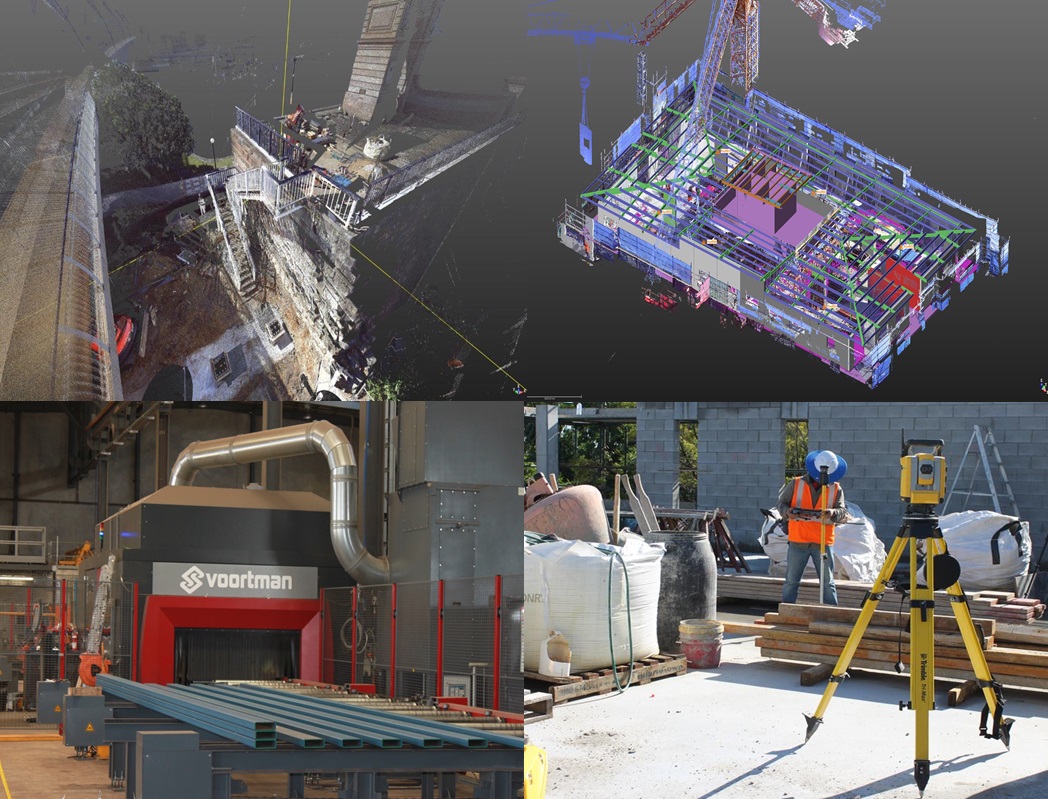 The Watkins Steel Four Step Process
At Watkins Steel, we have developed a unique, end-to-end digital workflow for steel fabrication and installation that significantly reduces the human error, guesswork, and rectification work that hold up construction projects.
Given that we have been using Tekla Software for steel detailing since 2007, we recognized an opportunity to build on this existing resource in the development of a digital workflow. Consequently, we began investigating CNC plasma cutting equipment that could create fabricated steel work straight from Tekla software models. After working in collaboration with Voortman, we invested in the Voortman V808 Coping machine for steel processing and fabrication.
In parallel to this process, we also began investigating 3D scanning technology that could permit high precision 3D measurement, imaging, and comparison of complex structures. This resulted in the procurement of our 3D Laser Scanner and complementary software for site measurement. This software enables us to read all site measurements that come from the laser scanner and turn this data into a '3D point cloud' model. By cross referencing shop drawings completed in Tekla Structures Software with '3D point cloud' models of the scanned site, we can now ensure that shop drawings carried out in Tekla are near 100% accurate before moving to the steel processing and fabrication phase.
Lastly, we invested in a Total Robotic Station for onsite steel installation. This piece of technology completes the four step process, as information fed to the Robotic Station during mark out tasks comes directly from Tekla Structures Software. This ensures 0.5mm to 1.5mm accuracy of site layouts. By developing this end-to-end digital workflow, we have significantly increased the efficiency and efficacy of the steel manufacturing and installation process, reduced on-site rework and guesswork, and delivered real value-added benefits to clients.
The benefits of the Watkins Steel Four Step Process are:
Near 100% accuracy of site measurements using 3D scanning technology
Near 100% accuracy of shop drawings in Tekla Structures Modelling software
Fabrication to +/- 1mm over 12 metres using the Voortman V808 Coping machine
Approximately 1200-1500 man hours saved per month in steel fabrication
Near 100% accuracy of on-site layout using the Total Robotic Station